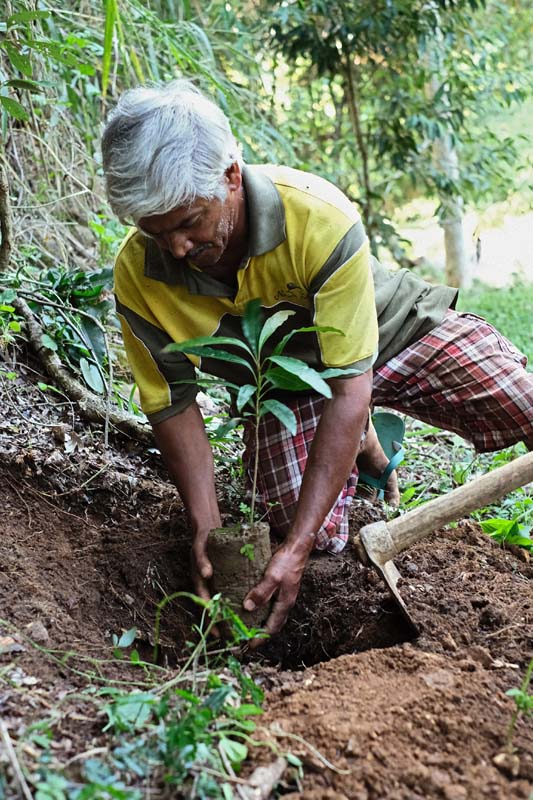 Living Heritage Koslanda was conceived more than 20 years ago with the intention of sustainable development in a rural community, whilst protecting a remote and beautiful patch of Sri Lanka. It has revived ancient vernacular crafts during construction, inviting the local villagers to relearn building skills long forgotten, using locally sourced and sustainable materials. The celebration of traditional architecture preserves Sri Lankan culture, a sentiment continuing with local village employees and a large percentage of women working at the hotel. This provides earning potential for many families in the area who would otherwise be forced to migrate to the city for work.
Interwoven with the integrity of the build has been the restoration of the landscape. Set within an abandoned tea and rubber estate of 80 acres, the hotel spent many years reforesting and restoring the biodiversity and replanting many of the hardwoods lost. An ongoing project has seen it plant more than 5000 trees, providing a protected area for migrating elephants and other endangered fauna and flora.
Promoting tree planting beyond its borders and lending weight to the anti-plastic campaign, Living Heritage held its first Koslanda Environment Awareness Day in October 2018, closing the hotel for two days. It invited 80 school students from the region and the capital to participate in fun-packed educational days, aiming to promote awareness and inspire budding environmentalists. With over a hundred participants now, all schools produce an array of educational forums – from films translated into both Sinhala and Tamil, discussion groups, performances and art sessions with environmental messages, to specific forest restoration and plastic waste reduction learnings.
A tour around the hotel's newly forested areas showcases trees like Ebony, Hal and Kumbuk – some species the children will have never seen due to their scarcity. Each student ends the day by selecting a sapling from the nursery to plant at home or in school. The hotel takes this programme on the road to participating schools, planting trees in the community in order to widen the catchment of students.
This ethos of environmental protection and restoration now extends to the hotel's organic garden, providing food for guests whilst teaching village farmers how to adopt permaculture principles. Living Heritage Koslanda's goal is to move towards zero waste and shift to all-natural products.
We would be so grateful if you could lend your support for the only Sri Lankan business to have made it onto the many category shortlists for this prestigious title. ⁠ ⁠ You can vote for us for the People's Choice Award online:
https://www.regenerativetravel.com/impact-awards/
Just scroll to the bottom of the page and show your support by voting for us in the People's Choice category. As an added bonus be in for a chance to win a free stay at the beautiful @gangteylodge in Bhutan. ⁠ ⁠ Thank you in advance for all your love and support.⁠ ⁠
Lucy and the Living Heritage Koslanda Team xxx⁠